When a user plays on FiveM servers, the user cache can build up with outdated files or temporary files that require deleting or updating.
There are a few ways to clear your FiveM Cache and we offer a simple and elegant solution as part of our FiveM launcher creator software.
You must remember before proceeding, that once you clear the cache, it can cause a load issue, but this is easily fixed by just re-launching FiveM again.
To get this free tool, you will need to download our launcher software.
Clearing the Cache the Easy Way
Inside our launcher creator software community, we offer an executable you can download and send with your game launchers to enable the user or your player to clear their cache automatically.
There is no programming required and everything is setup automatically, so you can just design your launcher and ship the clear cache executable with it. You simply link a button to that executable and when one of your users clicks on the button, it will launch the executable and clear the cache for them automatically.
Locating the FiveM Cache
The FiveM user cache is typically (but not always) stored in the user's application data directory on their computer.
You can locate this by opening up Explorer (My Computer) and typing into the address bar %appdata% and pressing enter.
This will load up the Application Data folder on your computer. Once in there, you can navigate to Local > FiveM folder.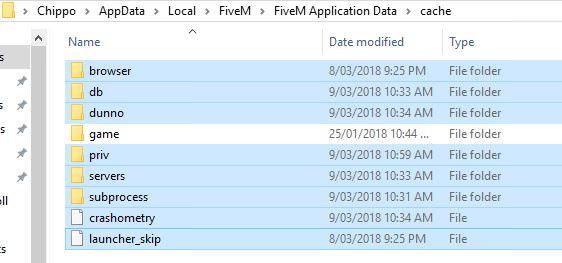 Once inside, you will see a folder named FiveM Application Data. Enter this folder and inside there will be a cache folder. Enter this folder and delete all folders and files EXCEPT the Game folder. DO NOT delete the Game folder, but you can freely delete all other folders and files inside this cache folder.
Cache Cleared
Once you or your user has cleared the FiveM cache, when FiveM is next loaded up, it will re-download all the latest and fresh mod files required for connectivity to servers.
It may cause problems upon first launch but the second launch typically sorts this out.